Programmes
Family Story Camp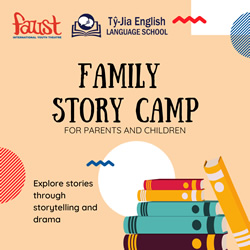 Faust and Ty-Jia English bring you Family Story Camp, where parents and children come together to explore stories through storytelling and drama. Parents will learn how to support their children with everything from basic phonics to advanced storytelling techniques. Children will be transported into the world of the story through drama and bring the story from page to stage.

Date: April 6th - 10th 2020

Venue: Ty-Jia English Language School at the Riverwalk. 20 Upper Circular Road, #01-33 The Riverwalk, Singapore 058416. One-minute walk from Clarke Quay MRT Station, Exit E

Cost per Parent-Child Pair: $665

(The first student from any one family will pay $350 for the camp. Subsequent family members who sign up will be given a 10% family discount and charged $315 per person.)

If you have any questions about the programme or would like to sign-up for more updates, please email us at info@FaustWorld.com.sg or call 6235 3582.



Click Here to Register!